Student Council
Student Council Members 2020-2021 
St Cummin – Stephen O'Flaherty
St Annin – Cate Faherty
St Paul – Darragh Mc Donnell
St. Mac Dara – Fionn Osbourne
St. Oengus – Jack Gordon
St. Malachy – Sarah Smyth and Tom Crotty
St. Odhran – Aisling Lydon
St. Brigid – Mark Osbourne
St. Patrick – Caoimhe Joyce
St Kevin – Ciara O' Neill
St. Eithne – Noel Lydon
St. Finnian – Conor Leonard
5A – Patrick O' Halloran
5B – Diarmaid Mc Keagney and Elizabeth
5C – Hugo Ruttkowski
6A, B, C- Katie Long, Ellen Murphy, Jodie Kenny
Background 
St Paul's Secondary School strongly promotes leadership and student voice. The Student Council is one such example of this in our school.
The Student Council is made up of three representatives from each year group together with the Student Council liaison teacher Mrs White. The qualities of a class representative are very important when electing a council member and we strongly believe our students uphold these qualities. They include:
Responsible and reliable
Punctual
Trustworthy
Good listener
Able to relate well to the whole class
Articulate
Understand that confidentiality of issues is important
Able and willing to take on a leadership role in the school
Influential in upholding rules and standards in the school
Having the interests of the whole school at heart
Proud of his/her school
Well presented in uniform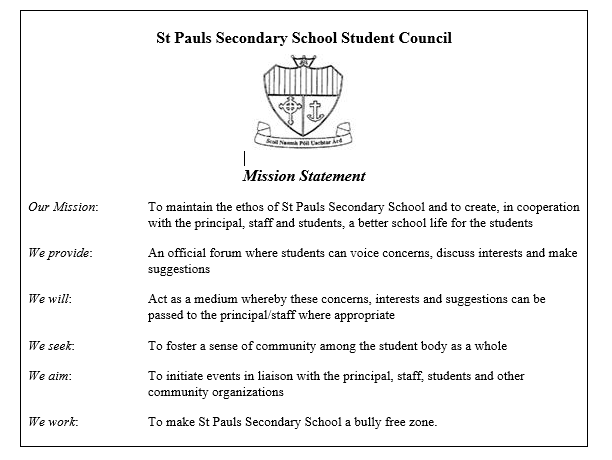 The Student Council have contributed to both the school community and the wider community of Oughterard. Within the school they are responsible for reviewing school policies, attending open night where they carry out tours to prospective students, organising and running initiatives such as mental health week, wellness week and a yoga wellness day.
Ms Forde and Ms Monaghan are responsible for running the biodiversity programme within the school. In May 2019 a number of student council members attended a biodiversity event in Galway City.
Over the past number of years, the Student Council has run a St. Vincent de Paul Christmas Food Drive. It was an event which encouraged students to consider those people for whom Christmas may be a very difficult time, and to work together with the wider school community to help those people. Through their spirited enthusiasm, the council members promoted the event in a variety of effective ways, including making a promotional video which was shown to the entire student body, and also posted on the St. Paul's Facebook page. This drummed up a huge amount of support within the school community and beyond, and we managed to donate an astounding amount of food to the SVP Food Appeal.